Houston Commercial Office Building Painting Services
The appearance of your office building, both interior and exterior, is important when it comes to employee well being and customer satisfaction. Potential clients judge your business by the attractiveness and appeal of your office space. In addition, you want your customers to know that you take pride in what you offer. At Maxicorp Painting Services, our division Houston Commercial Office Building Painting Services will help you to create an impression that will appeal to all of your employees and customers.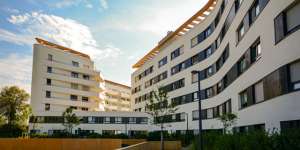 We have 10 years of professional experience in the interior and exterior painting of office buildings in Houston. Our expert workers are dedicated and pay attention to the smallest details to create the finest office building painting results. At Houston Office Building Painting Services, your business success is a top priority and we will help you to make the best impression in the eyes of your customers.
Our team of pro commercial painters understand your concerns that painting can be time consuming and disrupt day-to-day business operations. As the best office building painters, we make sure each project is completed quickly and that we work around your office hours and schedule. Take the first step in enhancing the look of your office building by calling Maxicorp Painting Services today 281-493-4622.