Commercial painting benefits for Houston businesses are numerous and they are why you should use a professional painting service like Maxicorp Painting Services. There are probably numerous ways to increase your business revenue but those derived from a fresh coat of interior or exterior paint are often quicker, simpler and more impactful than others. That's why first and foremost you should turn to professional commercial painting in Houston and consider it an investment rather than simply an expense.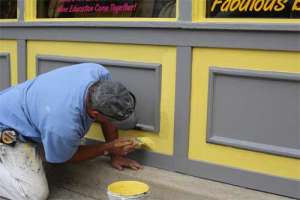 Other benefits of using a commercial painting service in Houston and refreshing your office, warehouse, factory or store include:
Aesthetics and appeal to current and prospective customers. A freshly painted business simply looks more appealing.
Employee enthusiasm. A freshly painted work environment can act to motivate employees and even help increase productivity. This is especially relevant as businesses struggle to attract new employees and induce current workers to return to the facility, post pandemic.
Property value. Particularly if you own your facility or have a lease that can be sold or transferred (sub leased), a fresh coat of professionally applied paint can increase your business value.
Branding. Commercial painting give you the opportunity to reinforce your business identity, or branding as it's often known. Plus, a new coat of paint, with the correct colors, will help make your business stand out from the competitions.
Regulation compliance. For some businesses, there are specific requirements for painting warnings, notices, restricted areas, etc. Additionally, OSHA (Occupational Safety and Health Administration) has specific requirements and regulations for commercial painting, particularly when spray-guns are used. Maxicorp Commercial Painting Services complies with the latest state, city and federal standards and regulations.
Insurance, Safety and Environmental Consciousness. At Maxicorp Commercial Painting Services we possess insurance limits that meet requirements for commercial real estate leaders in the industry and we are environmentally conscious.
There are many other benefits to using a commercial painting service in Houston and beyond those you may ask, "Why, chose Maxicorp Commercial Painting Services?" The short and most important reason beyond our years of experience is we're simply the best choice. We back everything with the highest level of customer service and quality assurance possible.
Commercial painting benefits for Houston businesses are numerous. To learn more or discuss your needs, call us at 281-493-4622 or click here.